Welcome to the department of Geochemistry & Economic Geology
Prof. Dr Jochen Kolb

Consultation-hour and individual course guidance (lecture period): Thursday 1-2 pm or on appointment: laura.neira∂kit.edu,
phone: +49 721 608-44268

The Chair for Geochemistry and Economic Geology deals with the cycle of elements in the Earth and its atmosphere. Inspired by this definition three research groups with the focus on different aspects were formed


Our well equipped laboratory forms the basis of our work.


We develop by our research innovative technological solutions for the societal challenges like change to low-carbon energy and mobility systems, global welfare and resilient adaption to as well as reduction of anthropogenic climate change. We focus on sustainable access to raw materials and protection of our environment.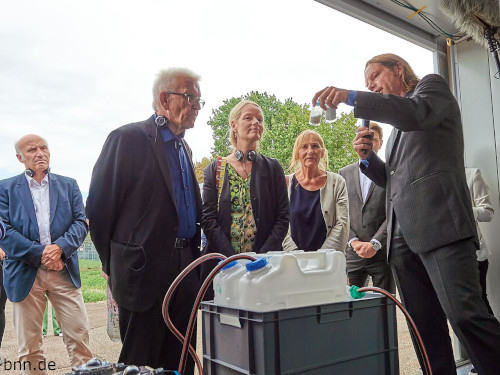 Winfried Kretschmann and Thekla Walker on tour of energy transition construction sites in Bruchsal and Philippsburg
Professor Jochen Kolb explains the pilot plant for lithium extraction on the site of the geothermal power plant in Bruchsal to Minister President Winfried Kretschmann and Environment Minister Thekla Walker.
BNN News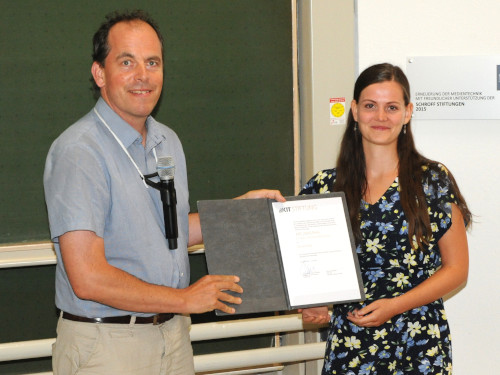 2022 Arcardis Prize for Elena Kubiak
Elena Kubiak was awarded the Arcardis Prize 2022 for her MSc thesis on "Environmental impact of historical mercury mining at the Stahlberg (Rhineland-Palatinate)".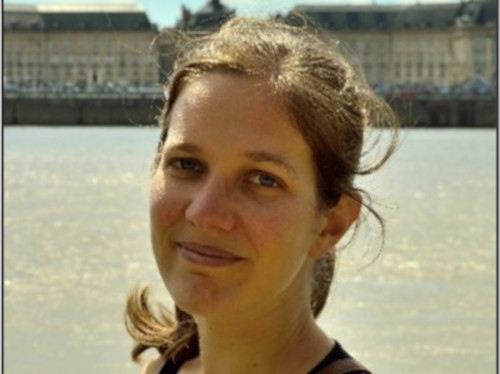 YIG Prep Pro Fellowship 2022
Dr. Teba Gil-Díaz has been awarded the YIG Prep Pro Fellow at KIT, financing her own post-doctoral research project for the next two years in the area of environmental dispersion of trace elements in aquatic systems.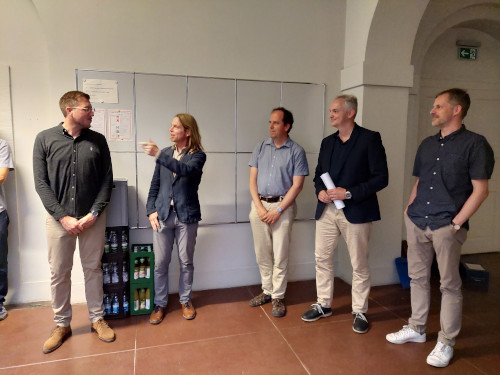 Majken Djurhus Poulsen (19.05., Copenhagen University) and Philipp Holz (20.5., BGU, KIT) successfully defended their PhD theses.
We congratulate Majken and Philipp and wish them all the best for their future. Majken is the first native Greenlandic female holding a PhD in geology.
Deep Dive Seminar at Ore Deposit Hub
Dr. Clifford Patten presented the research outcome carried out at AGW, KIT on ultramafic-hosted volcanogenic massive sulfide deposits.
Link (1:03:55)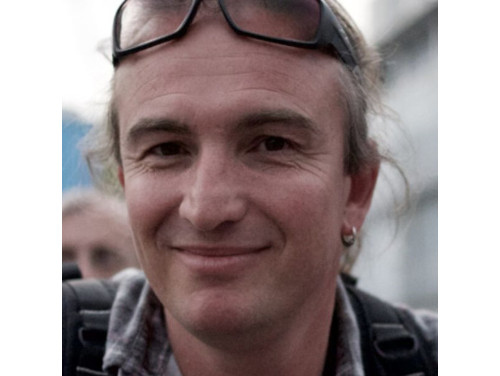 Gastkurs zu Stoffflüssen in der Umwelt
Prof. Jörg Schäfer (Universität Bordeaux) wird am 28.04.2022 im Rahmen des ERASMUS Dozentanaustauschs einen Kurs mit dem Fokus auf Transport und Reaktivität von Spurenelemente in Ästuaren (Beispiel Gironde und ihre Zuflüsse) halten. Anmeldung bitte über ILIAS. Nähere Infos finden Sie hier.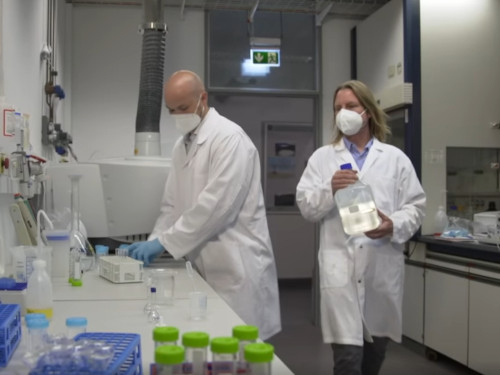 Lithium aus Deutschland
Fernsehbeiträge in ZDF - Terra X, hr-fernsehen und 3sat - Unser Beitrag zur umweltfreundlichen und kostengünstigen Lithiumgewinnung in Deutschland
Link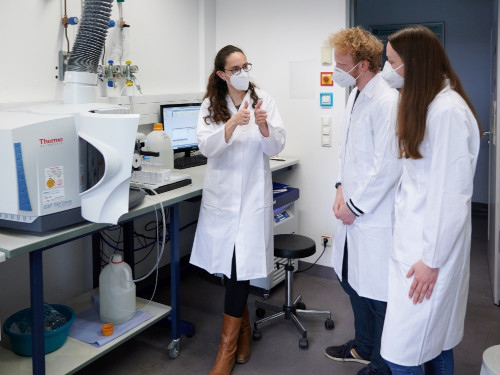 Faculty Teaching Award 2022
Dr. Elisabeth Eiche will be awarded the 2022 Faculty Teaching Award for outstanding interdisciplinary teaching in the area of "Geoecology, especially Environmental Analysis and Applied Geosciences."
YouTube (1:00 min)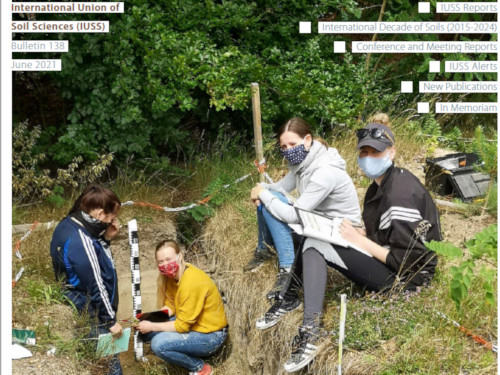 Study and fieldwork under corona conditions
Students of the Environmental Mineralogy Exercises doing field work under corona conditions are selected for the cover of the latest Bulletin of the International Union of Soil Sciences
IUSS Homepage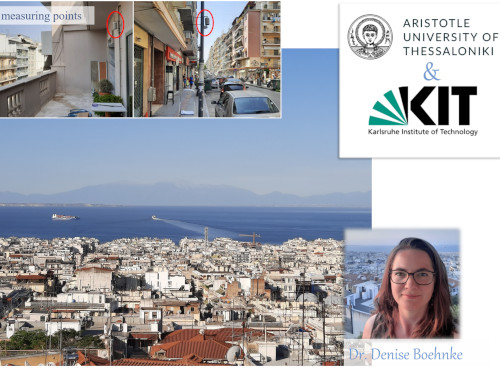 Measuring the heat situation in the inner city of Thessaloniki, Greece
Cooperation between KIT and Aristotle University of Thessaloniki
Full Article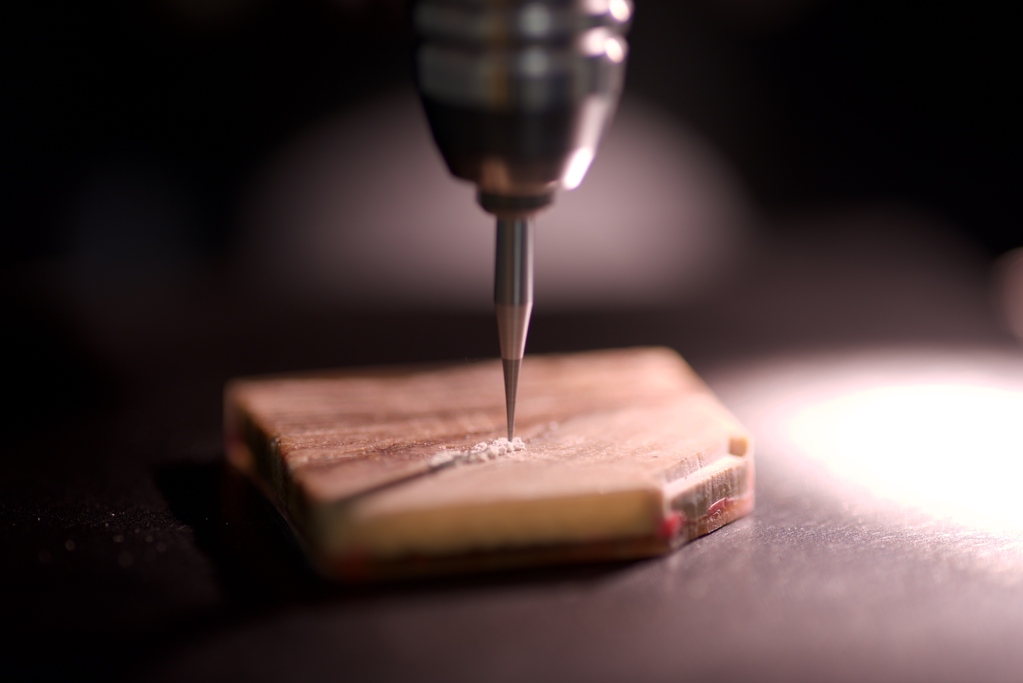 Carbonate Standards Ensure Better Paleothermometers
A comunity effort improves the carbonate clumped-isotope thermometer and drives its wider application
AGU Journal EOS
Saft für E-Auto-Akkus aus dem Oberrhein-Graben?
Podcast mit Prof. Dr. Jochen Kolb in SWR - AKTUELL
Download (German, MP3, 5.3 MB)
Latest Publications
Variations of PM2.5 sources in the context of meteorology and seasonality at an urban street canyon in Southwest Germany
Song, J.; Saathoff, H.; Gao, L.; Gebhardt, R.; Jiang, F.; Vallon, M.; Bauer, J.; Norra, S.; Leisner, T.
2022. Atmospheric Environment, 282, Art.-Nr.: 119147.
doi:10.1016/j.atmosenv.2022.119147
Erratum zu: Berechnung von Temperaturfahnen im Grundwasser mit analytischen und numerischen Modellen
Ohmer, M.; Klester, A.; Kissinger, A.; Mirbach, S.; Class, H.; Schneider, M.; Lindenlaub, M.; Bauer, M.; Liesch, T.; Menberg, K.; Blum, P.
2022. Grundwasser, 27, 149–150.
doi:10.1007/s00767-022-00513-6